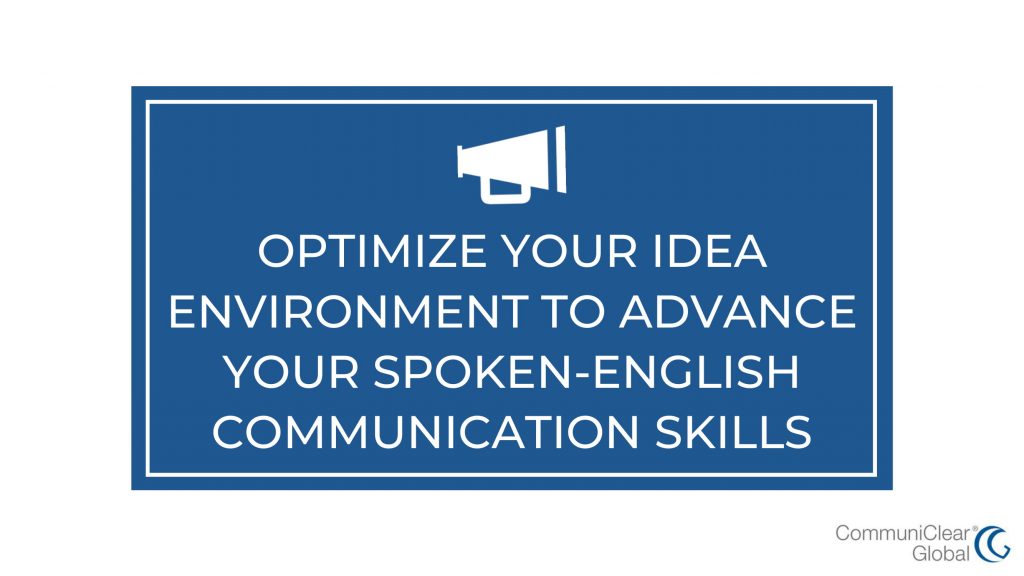 Are you interested in improving your spoken-English articulation so that you're able to speak English with more ease in the global workplace?
If so, it's time to pay attention to your environment. The more optimized this is the more ease & faster results you'll experience.
You can break this environment into three categories:
Idea or Mental Environment
Physical Environment
People Environment
Today, let's talk about your idea or mental environment.
What's Your English-Speaking Brain Paying Attention To?
Your idea or mental environment is about where you're putting your attention. Books. YouTube videos. Online training programs. Online communities. Etc.
When it comes to speech training, your idea environment helps you to pay active attention to a speaker's speech production. And the more you pay attention, the faster you'll hear results.
Need A Bit of Help with Optimizing Your Idea Environment?
Below are three ways that I can help you now. Go ahead and check them out!
A Free Virtual Mini-training
Check out my Clear Speech Success Quick Start™ videos. This is a great first step to optimizing your idea environment. You'll hear my recommendations for what to prioritize when it comes to speaking English in the global workplace. Click HERE.
Upcoming Virtual LIVE Training & Coaching Programs
Starting September 21st and September 22nd, I'm running two sections of a 6-week speech training program called Clear Speech Success Accelerator™. Sign up by Monday, August 31st, and receive $100 off. Click HERE to learn more.
A Strategy Coaching Call
I'd like to offer you the opportunity to sign up for a 60-minute strategy coaching session where you and I will…
Create a crystal clear vision of the next phase of your spoken-English communication journey.
Uncover any hidden challenges that may be interfering with your efforts to get your message across as you intend.
Come up with a 5-part Masterful Communication Plan to help you take your spoken-English articulation to the next level.
Ready to sign up? Click HERE to sign up and schedule your strategy coaching session.