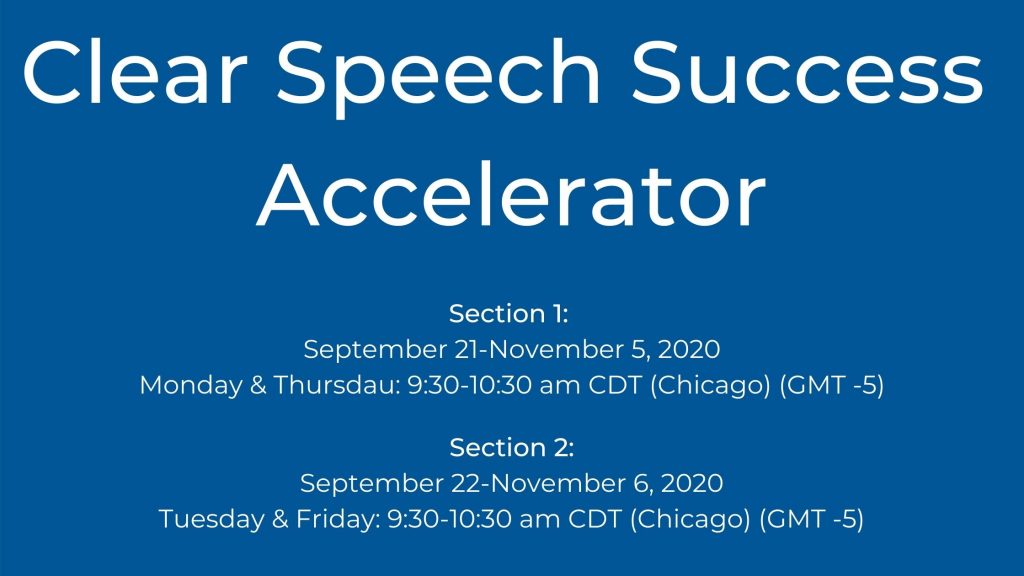 Do you regularly speak English to share your invaluable knowledge and insights in the global workplace? Are you talented in your field of expertise but are struggling to communicate with ease and efficiency?
Clear Speech Matters in Today's Global Workplace
There's a difference between being kinda, sorta understood, and having your audience fully engaged and understanding you each step of the way. Being "kinda" understood means that you get by in meetings and presentations. Being really understood means greater effectiveness, quicker work, and better connections.
Join Us for
Clear Speech Success™ Accelerator
This Fall, Sarah Gallant is hosting two sections of her signature 6-week virtual LIVE training called Clear Speech Success™ Accelerator.
If you're a driven professional in the global workplace and want your talent, not your accent, to take center stage…
If you want to rock your next presentation or communicate with rock-star confidence & efficiency in your next meeting,
then check out this program. Sarah is running two sections and limiting each to 12 participants.
Have a Question?
Please send Sarah an email at sgallant@communiclearglobal.com. And she'll respond within 24 hours (Mondays-Thursdays, 9 am-4 pm and Fridays, 9 am-12 pm CT).