We dedicate 100% of our attention to spoken English.
Our mission is to help global workforce professionals communicate in spoken English with more clarity, ease, and efficiency in the workplace. We help our clients learn how to adjust, not remove, their accents so that they can efficiently share their ideas and interact as they intend during client calls, virtual cross-functional team meetings, webcasts, etc.
We work with corporate employees, lawyers, and subject matter experts of different language backgrounds and industries. These advanced-proficient speakers of English either work in Chicago, Illinois (U.S.) or other parts of the world. We are able to meet with them in one of the following ways:
in-person at their physical office space in Chicago or a nearby suburb
in-person at our office space in the Chicago Loop (73 W. Monroe Street)
by telephone
via teleconference or videoconference
Clients Served
We have served the following companies and firms:
Takeda Pharmaceuticals
BMO Capital Markets
The Marmon Group
Nektar Therapeutics
Cartus Relocation Services
Hospira (now Pfizer)
BNO Commercialisti e Revisori Legali
Fireex
YKVN-Singapore
Angelo Po
We have also worked with individual foreign lawyers, medical professionals, MBA graduate students, and organizations hosting government delegation programs in Chicago.
Sarah Gallant, Founder
Sarah Gallant, M.A. in Applied Linguistics-Teaching English to Speakers of Other Languages (TESOL), has designed and implemented language training programs for research scientists, business executives, IT specialists, lawyers, engineers, teachers, STEM graduate students, pharmacists, thought leaders in the pharmaceutical industry, and delegation program participants for over 20 years.
She taught her first English pronunciation skills course in 2004 and has been focusing on this area of expertise ever since. She has worked in both academic and corporate contexts, in Chicago and abroad.
Sarah taught at the Tutorium in Intensive English and the International Teaching Assistants Program at the University of Illinois at Chicago for over 12 years. She launched CommuniClear Global in August 2013 and now offers her experience and expertise to corporate employees, professional oversees programs, and teacher trainer programs.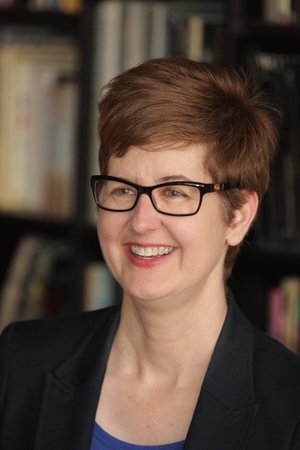 SARAH GALLANT, FOUNDER & ENGLISH LANGUAGE SPECIALIST
Other English Language Trainers on Board
Lita Brusick Johnson
Lita is a language instructor with extensive international and cross-cultural experience and an MA in Linguistics-TESOL (Teaching English as a Second Language). She works with adult learners, both persons seeking to improve their ability to communicate in English in their workplaces, and international students hoping to attend college in the United States.
Courses taught include: Academic ESL for Chinese engineering students, in cooperation with the UIC Department of Electrical and Computer Engineering; Advanced Speaking Skills; Advanced Pronunciation Skills; TOEFL Preparation; and Speaking and Presentation Skills (for the Bank of Beijing).
Prior to teaching classroom and online ESL classes, Johnson worked in the non-profit sector for many years, and she brings her prior work experience in international community development and disaster response plus inter-cultural communication skills to her teaching of English as a second language.
Katie Sauers
Katie, M.A. in Applied Linguistics-Teaching English to Speakers of Other Languages, has more than 10 years of experience assessing and training students on their spoken English-communication skills at the Tutorium in Intensive English and the International Teaching Assistant Program at the University of Illinois Chicago.
Katie has given multiple teacher-training workshops and presentations at professional conferences about how to teach pronunciation, clear communication and discussion skills. Most recently she presented at the Illinois TESOL-BE conference about how to effectively teach English stress and rhythm.
Talk to us. How we can help you?