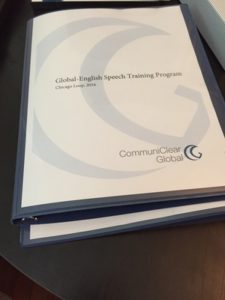 Are you a super smart professional who needs to improve their spoken English for professional purposes? For a public speaking event? An upcoming interview? Regular meetings?
Is one of your current goals to communicate in spoken English with more clarity, ease, and efficiency?
Join Us
Join Sarah Gallant and other global workforce professionals for a 6-week Chicago Loop English Pronunciation Skills for Professionals program.
The goal of this program is to help demystify the English sound system for its participants. Sarah will break down this system of sounds, rhythm, and vocal delivery. She will help you to prioritize what to concentrate on when, and how. You will walk out of each training session with specific practice techniques to help you steadily integrate what we cover into your spontaneous spoken English.
A Snapshot of What's Included
Weekly Group Training Sessions
During each action-packed session, you will:
concentrate on typical problematic sounds for speakers of different language backgrounds.
learn the core speech features that make up the stress & intonation of spoken English, namely English rhythm.
engage in a variety of practice activities.
learn how to monitor yourself and your fellow speakers-in-training.
receive ongoing individualized feedback.
acquire take away techniques for continued practice between course sessions and beyond this 6-week training program.
have 24/7 access to a workbook-style online training space for daily practice.
Core Training Materials
We typically work with busy professionals who are in need of structured guidance every step of the way. Over the years, we have distilled the content matter & training techniques into an approach which serves both the analytical and kinesthetic learner.
You will receive an English Sound System Studio booklet and be given access to our dedicated online training space. The carefully-sequenced speech training modules include:
Daily learn and practice pages
Downloadable pdf files
3-5 minute video-recorded mini-lectures
Supplemental audio samples
Daily practice assignments (estimated completion time is 15-30 minutes per assignment)
Extra materials for extra practice (in case the assignments aren't enough)
A Private Membership Community
You will have access to an online community of other professionals who are also motivated to steadily improve their spoken English. Sarah, your trainer, will set up a Facebook group so that you can post your questions, thoughts, and speech samples (optional) as you are working through the materials. She will check in daily to answer your questions and provide a little ongoing speech feedback.
Want to Talk to Us?
Wondering if this program is right for you? Fill out the form below and Sarah will get back to you within 24 hours.