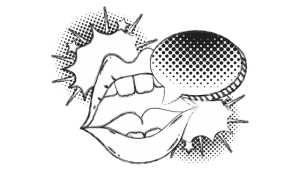 Let me ask: Have you ever paid attention to your lips, mouth, and jaw when you communicate in spoken English? Have you ever paid attention to how your mouth moves when you speak in your first (or second or third) language?
I recommend taking out a mirror. What do you notice?
Mouth Movement Matters
When speaking in English, there's a correlation between mouth movement and clarity. Mouth movement helps you to produce an amplified and clear sound.
Whether I'm working with clients on vocal presence (e.g., for a strengthened sound, a confident sound, an approachable sound, etc.) or accent-English pronunciation (sounds & rhythm), this is where we start. Always.
The goal here is to develop a solid foundation for what's to follow.
Accent: Everyone Has One
Accent lies primarily in how you produce the vowel sounds. There's the single step vowel, the double step vowel. There are variations of syllable stress patterns. Etc.
How people produce their consonants in spoken English varies. But if you want to talk about the musical quality that one associates with an accent, it's really about the vowel sound.
English Rhythm Can Affect Information Retention
Every language has its own rhythm and that of English depends on the alternation of the stressed clear vowels & the unstressed reduced vowels.
Mouth movement is key for producing this rhythm. And this rhythm plays a role in how the speaker's information is processed and retained. (There are studies on this and I'll return with a study or two in the near future!)
Bookmark This Page
Below is a picture of a mouth movement warm-up. I recommend working through this for the next five days. Concentrate on exaggerating the vowel sounds that are in bold.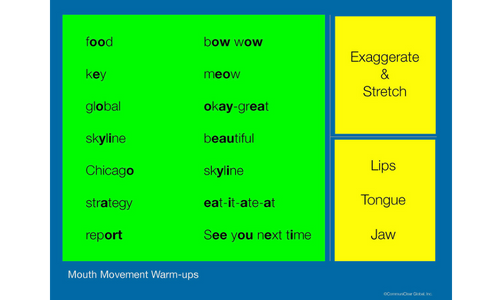 Join Us for a Free Webinar
Want a little guidance LIVE for working through this warm-up? Sign up for a webinar that I have coming up on July 12 (Chicago, 7 pm).
During this webinar, I'll walk you through this warm-up and another great technique for producing the clear vowel sounds in spoken English. You will also walk away with a couple of takeaway practice sheets:
A mouth movement warm-up practice sheet to put up in your car, by your mirror, somewhere, AND
A 1-week practice-task plan to help you jumpstart your accent modification-English pronunciation practice routine.
This webinar is FREE. Yes, you read right! This specific live webinar is free this one time only.